About Premier Restaurant Supplies - Family Owned and Operated Since 1999
For over 20 years, Premier Restaurant Supplies has proudly served counties of Southwest Florida. Started with one goal: design the best commercial kitchens in the industry. Specializing in equipment and smallwares sales and offering one-on-one project guidance. Premier has had the pleasure of working with public and private schools, churches, local and international restaurants, bakeries, coffee shops and much more.

Work one-on-one with one of our experts to discover equipment that meets your establishment's budget and needs.

Shop at Premier Restaurant Supplies for kitchen essentials like professional cookware, bar supplies, dinnerware and more.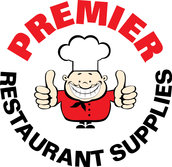 Get the guidance you need to move forward with your venture. Drawings created with AutoCAD. Let's get started.
Proudly delivering to local businesses throughout Florida. Need equipment, but don't have a way to transport it? No problem Simply order through Premier, and have a brand-new oven, refrigerator, mixer, and much more delivered right to your establishment. Don't live close to Premier Restaurant Supplies? Regional and international shipping available. Local delivery within 30 miles starting at $150.
Add Restaurant Equipment Installation
Add installation to delivery. Basic service is as follows: Bring in equipment, set it in place, and ensure it's properly set-up. With over 20 years of experience, Premier is your trusted equipment specialist. Poorly installed equipment risks employee's safety and may void manufacturer warranties. Proper positioning allows equipment to work as it was designed to. Don't settle for curbside.
Add Remove Restaurant Equipment + Dispose
Perfect for those needing to remove and dispose existing equipment to make room for new equipment. Bundle restaurant equipment removal with delivery and installation to make the most of your next equipment purchase.
Need extra cold space at your establishment? With such a large range of configurations and options, it can be frustrating to take on this task alone. Whether it's indoor or outdoor, mobile or stationary, Premier Restaurant Supplies is ready to build a custom walk-in cooler that best suits your needs.
Update or replace existing equipment systems, such as changing condenser or evaporator. Replace diamond plate flooring, rain roof, gravity shelving and glass retail doors. Move an existing cooler to a new site. Plug or install doors. Call for quote.
Follow @Premierrestaurantsupplies